As the LDS church grows and expands internationally what role does the necktie play? The answer should be none if we are talking about the tie as an article of clothing. The scriptures give principles regarding dress and grooming but never since the law of Moses are specific articles of clothing dictated. 
So what are the principles? D&C 42 is a good start where the instruction to the Saints regarding clothing was for all things to be done in cleanliness before [Him], for their garments to be "plain" and "their beauty the beauty of the work of thine own hands." Most important the overarching commandment preceding 
those instructions was "thou shalt not be proud in thy heart," a lesson we should learn from the Book of Mormon where pride almost always goes hand and hand with costly apparel.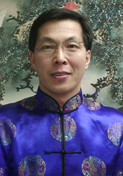 I would love to see greater liberty given to local cultural congregations to determine appropriate Sunday apparel. If we talk about 'dressing up' for church out of respect and honoring of the Sabbath-as a special day set aside from the rest the week- then I would propose that each culture will have the appropriate style or level of dress within their culture and not require an importation from the West.
  Is there any good reason why these two pictures could not be pictures of LDS Bishops on Sunday?
In the West the appropriate style typically means dress shirts and ties for the men and typically dresses or skirts for the women. In other parts of the world those same principles can manifest themselves in different fashions. When I was in Ghana I loved the fact that the women dressed up in their bright brilliant dresses with colorful patterns, never over the top or an issue of pride but it was simply their cultural norm of dress for such a level of respect and honor. The men, however, in Ghana wore the business suits and ties of the West, despite having a local counterpart to the women's clothing. Of course in nearly all parts of the world the business attire of the West has some foothold but I don't think it should be demanded or expected that every deacon in Indonesia or every bishop in Uganda to be wearing a white shirt and tie. I think the white shirt and tie that the church brings with it into international areas of the church actually acts as a barrier for some investigators and potential members of the church. That extra bit of Western culture will cause the church to be viewed as an American church and somewhat elitist, bordering pride for observers from the outside.